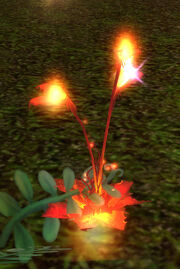 Cinderbloom can be found in Mount Hyjal, Deepholm, Uldum, Tol Barad and Twilight Highlands.
XP table
XP from Gathering Cinderbloom

| Level range | XP gain on Gathering |
| --- | --- |
| 80 | 2200 |
| 81 | 2750 |
As an ingredient
Alchemy
Milling
As a 'mob'
A bug introduced in Patch 4.0.6 seems to sometimes cause Cinderbloom in Tol Barad to spawn not as an herb but as a humanoid mob. It is possible to aggro the Cinderbloom as well as kill it where upon the Cinderbloom will make an odd clank like sound. The Cinderbloom has no loot.
Patch changes
External links
Types of

herbs

Apprentice Herbalism
Journeyman
Expert
Artisan
Master
Grand Master
Illustrious Grand Master
Zen Master
Draenor
Legion

Battle for Azeroth
Shadowlands