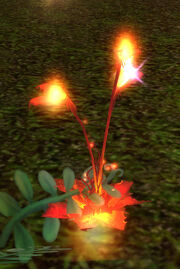 Cinderbloom can be found in Mount Hyjal, Deepholm, Uldum, Tol Barad and the Twilight Highlands.
As an ingredient
Alchemy
Milling
As a 'mob'
A bug introduced in patch 4.0.6 seems to sometimes cause Cinderbloom in Tol Barad to spawn not as an herb but as a humanoid mob. It is possible to aggro the Cinderbloom as well as kill it where upon the Cinderbloom will make an odd clank like sound. The Cinderbloom had no loot.
Notes
When the Verdant Thicket in Mount Hyjal regrew over what was once known as the Circle of Cinders by the time of the end of the Fourth War, new kinds of cinderbloom herbs appeared. Zekhan likes to think of them as a symbol of the old clash between fire and nature. The leaves of this bloom burn and regrow quickly when lit. When a meal is seasoned with this herb, Zekhan advises having plenty of cold water on hand to wash it down.[1]
Patch changes
References
External links
Types of

herbs

Apprentice Herbalism
Journeyman
Expert
Artisan
Master
Grand Master
Illustrious Grand Master
Zen Master
Draenor
Legion

Battle for Azeroth
Shadowlands