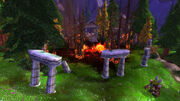 The Circle of Cinders[44, 26]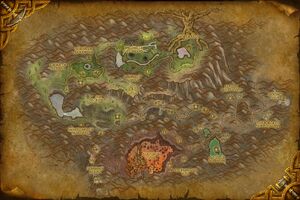 are some night elven ruins located in the middle of the Verdant Thicket atop Mount Hyjal. Baron Geddon can be found in the middle of the ruins being held by Galrond of the Claw, Telessra, and three archdruids.
Pip Quickwit and his bodyguard Raz Skullcrusher are found here getting ready to take their mole machine to Blackrock Caverns.
After the Fourth War, Zekhan reported that the Verdant Thicket has regrown over the Circle of Cinders. From the ashes where fire elementals raged, new kinds of cinderbloom herb can be found.[1]
Trivia
During the Cataclysm beta, the location was a large crater known as Archimonde's Vengeance.
Patch changes
References
External links