For the Arena composition, see Cleave (arena term).
Cleave

Cleave
Level 32 Arms warrior ability
Melee range
10 Rage
6 sec cooldown
Requires Two-Handed Melee Weapon
Strikes all enemies in front of you with a sweeping attack for (90% of weapon damage) Physical damage. For each target up to 5 hit, your next Whirlwind deals 20% more damage.

Usable by
Class
Warrior
Properties
School
Physical
Cooldown
6 seconds
Radius
8 yd
Other information
Level learned
32
Related buff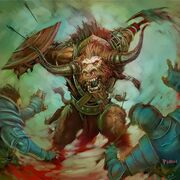 Two bodies are better than one.[1]
Cleave is a level 32 Arms warrior melee ability that deals damage all enemies in front of the warrior. It is not affected by the global cooldown.
Notes and trivia
Cleave is also used by many high-level bosses that use mainly physical attacks.
Cleave is a basic Warrior spell in Hearthstone. The flavor text reads: "Hey you two...could you stand next to each other for a second..."
Patch changes
See also
References
External links