For the item from Warcraft III and mentioned in the RPG, see Cloak of Shadows (item).
Cloak of Shadows

Level 58 rogue ability
1.5 min cooldown
Provides a moment of magic immunity, instantly removing all harmful spell effects. The cloak lingers, causing you to resist harmful spells for 5 sec.

Usable by
Class
Rogue
Properties
School
Physical
Cooldown
1.5 minutes
Other information
Level learned
58
Related buff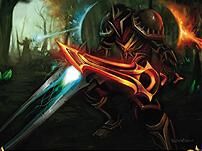 "Revel in the cool shelter of the shadows."
—The Assassin's Creed, Chapter 5[1]
Cloak of Shadows is a level 58 rogue ability. It enables the rogue to remove any spell debuffs on them and become resistant to all spells for 5 seconds.
Notes
Tips and tactics
Trivia
Patch changes
References
External links