The subject of this article was removed from World of Warcraft in patch 6.0.2.

This includes items and quests that can no longer be obtained or are now deprecated.
The in-game information in this article is kept purely for historical purposes.
Objectives
Travel to Mason's Folly in the Veiled Stair and speak with Wrathion.
Description
We have what we need. I can create an item that will harness the power of the celestials and, with a little work, may also be able to contain some of my own.
Meet me atop Mason's Folly, east of the Tavern in the Mists in the Veiled Stair, where we've met before. You will be delighted with the results!
Rewards
You will be able to choose one of these rewards:
Completion
I can custom-tailor the cloak to your preferred abilities. Choose wisely!
The cloak contains only a fraction of its potential power. I'm already hatching a plan to augment it...
Gains
Notes
After only one challenge, Wrathion concludes the Patch 5.3 portion of his quest by awarding item level 600 cloaks!
Wrathion is not in his usual spot on Mason's Folly overlooking Jade Forest, instead he is found just downhill at [73.3, 79.7]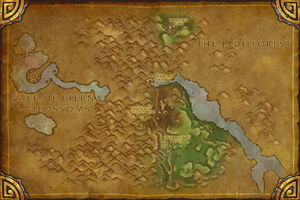 overlooking the Thunderfoot Fields, far below in the Valley of the Four Winds. Get close to him and the script event will automatically start.
On arrival:
Wrathion says: Welcome back, champion!
Wrathion starts walking uphill.
Wrathion says: Excellent work with the celestials. Can you believe how chatty they were?
Wrathion says: I just wanted them to hand us our reward, but they were just, "talk talk talk talk talk."
Wrathion says: I'm sorry - where were we? Oh yes! I have something for you.
Wrathion says: The very spirits of Pandaria are supporting us in our grand crusade. Behold!
The four august celestials appear behind Wrathion
Wrathion says: The strength of the White Tiger.
Wrathion says: The wisdom of the Jade Serpent.
Wrathion says: The fortitude of the Black Ox.
Wrathion says: And from the Red Crane, a shinning beacon of hope for a better world!
Wrathion says: Our world.
Wrathion says: There! It is ready.
Replacement cloaks can be purchased for 10,000

after completing this quest by speaking with the Blacktalon Quartermaster in the Tavern in the Mists.
Progression
Patch 5.0 - Mists of Pandaria
Patch 5.1 - Landfall
Patch 5.2 - The Thunder King
Patch 5.3 - Escalation
 [90] 

Celestial Blessings

 [90] 

Cloak of Virtue

 [90] 

Preparing to Strike

/  [90] 

Meet Me Back at the Inn
Patch 5.4 - Siege of Orgrimmar
Patch changes
External links