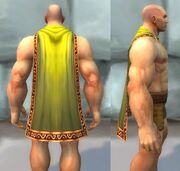 Cloak of the Cosmos is a rare item that can be dropped by Immol'thar in Dire Maul.
Patch changes
Patch 6.0.2 (2014-10-14): Stats squished. Hit converted into Critical Strike.

Patch 4.0.3a (2010-11-23): Item level reduced from 62 to 45. Spell Power replaced with Hit.

Patch 2.0.3 (2007-01-09): Bonus healing converted into Spell Power.

Patch 1.3.0 (2005-03-07): Added.

See also
External links