Cloudfeather Fledgling
Use: Teaches you how to summon this companion.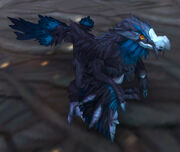 Cloudfeather Fledgling is a baby teroclaw companion. It can be looted from the Ancient Cloudfeather Egg at Glitterfall Heights in Ardenweald.
Pet Journal
These ferocious flying creatures scrape their beaks against hard surfaces to sharpen them and intimidate foes.
Battles
Notes
During development, this pet was in the beast family. Its name also changed a few times; at different points it was called Blue Young Teroclaw, Downy Ragewing, and Downfeather Ragewing.
Patch changes
External links
Battle pet types
Flying battle pets

Archetype of Motion

Archetype of Satisfaction

Battie

Bloodsucker Vespoid

Cloudfeather Fledgling

Dusty Sporeflutterer

Enraged Poultrid

Fluttering Glimmerfly

Foulwing Buzzer

Fuzzy Shimmermoth

Gilded Wader

Helpful Glimmerfly

Larion Pouncer

Multichicken

Necroray Spawnling

Pearlwing Heron

Scarlet Proto Avian

Sinfall Screecher

Stony

Vibrant Glimmerfly

Wader Chick

Wild Etherwyrm