Clutches of Shek'zeer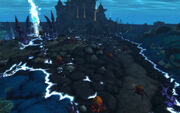 The Clutches of Shek'zeer can be found east of the Heart of Fear in central Dread Wastes. Dread Kunchong, brood of Karanosh, dominate most of the clutch. Fear Clutch, Horror Clutch, and Panic Clutch can be found along the Horrid March east of the main area.
Trivia
During the beta, it was named Set'vess.
Patch changes
The Clutches of Shek'zeer