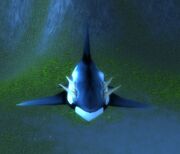 Coastal Defenders were night elf druids transformed into sea lions and orcas located in the Mist's Edge of Darkshore during the War of the Thorns.
Abilities
Objective of
Quotes
The Horde will pay...
Monsters! I'll send your head to your Warchief!

Die screaming, Horde scum!

For Teldrassil and the Alliance!

For Teldrassil...

I'll... Killl... You...

Sisters... I tried...

The Horde will fall...

You follow a madwoman...

You monsters...
Patch changes
External links