"Ummm…what is that?"[1]
Collidus the Warp-Watcher is an elite rare mob observer that can be found wandering throughout Shadowmoon Valley.
Its primary abilities include a melee for approximately 2K on plate, a random AoE fear (which is very likely to cause adds in a populated zone), and a channeled beam that inflicts 400-500 damage per second of random types.
Loot
Achievement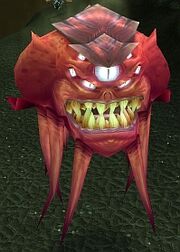 Killing Collidus the Warp-Watcher is a criterion of the following achievements:
Patch changes
See also
References
External links