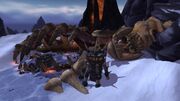 Colossal's Fall is a Thunderlord settlement in northern Frostfire Ridge, north of the Cracking Plains. Much like the capital, Grom'gar, Colossal's Fall is built in the corpse of an earth giant.
The Thunderlord regard Colossal's Fall as a sacred location, claiming it was their clan who felled this colossal many decades ago.[1]
Inhabitants

Please add any available information to this section.

Trivia
During the beta, it was named Grombolash.
Patch changes
References
External links