Combustion

Combustion
Level 29 Fire mage ability
10% of base mana
2 min cooldown
Engulfs you in flames for 10 sec,


Rank 2 (Level 56):




12 sec



increasing your spells' critical strike chance by 100% and granting you Mastery equal to 50% your Critical Strike stat. Castable while casting other spells.

Usable by
Class
Mage
Properties
School
Fire
Cooldown
2 minutes
Other information
Level learned
29
Improvements

[

Pyrokinesis

]

,

[

Kindling

]

,

[

Wildfire

]

,  

[

Glyph of Smolder

]

Related buff

Combustion
Critical Strike chance of your spells increased by 100%.
Mastery increased by X.
Duration: 10 seconds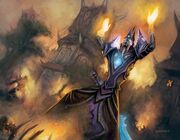 "A little fire goes a long way." —Cerripha Sunstreak[1]
Combustion is a level 29 Fire mage ability. When activated, it increases critical strike chance with mage spells by 100% and grants Mastery equal to 50% of your critical strike rating.
Improvements
Talents
PvP Talents
[

Pyrokinesis

]

causes every cast of Fireball to reduce the remaining cooldown on Combustion by 5 seconds.
Azerite Traits
[

Wildfire

]

causes Combustion to grant the mage additional critical strike rating, and a lesser amount of critical strike rating to up to 4 nearby allies, for 10 seconds.
Trivia
Glyphs
Patch changes
Retail
Classic
Hotfix (2020-08-28): Fixed a bug that unintentionally allowed Combustion to apply a permanent buff to crit chance.

References
External links