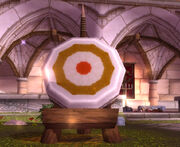 Commander Lindon is a level 30-92 elite human mini-boss who can be found behind a large number of Master Archers at the archery range of the Scarlet Halls.
Abilities
  Shield Breaker — Fires a volley of explosive arrows, destroying all reinforced archery targets and inflicting Fire damage and knockback to all nearby enemies. 
  Shield Breaker — Inflicts 190 to 210 Fire damage and knockback to all enemies within 5 yards. 
  Staggering Shot — Inflicts Physical damage, knocks back, and slows the target by 50% for 3 sec sec. Fired at targets not behind cover. 
Quotes
Archers, attack!

Another down. Do not relent!

Keep firing! Let none escape!

Blades at the ready men!
Objective of
Trivia
Lindon is voiced by Crispin Freeman.
During the beta, he was named Hunter Commander.
Gallery
Patch changes
External links