Conquest Hold
Conquest Hold

Type
Fortress
Leader(s)
Gorgonna
  Formerly
Conqueror Krenna
Race(s)
 Orc
 Troll
 Tauren
Language(s)
Orcish, Zandali, Taur-ahe
Affiliation(s)
Warsong Offensive
Horde Expedition
Location
Western Grizzly Hills[21, 65]
Status
Active
Characteristics
Facilities

Stables

Anvil & Forge

Bank        Auctions
Travel
Flight Master(s)
Mass-transit
Portal(s)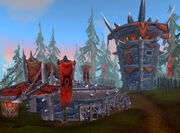 Conquest Hold is the main Horde camp in the Grizzly Hills. Conqueror Krenna, known to be aggressive even for an Orc, rules over the forces stationed there. After a certain point, Gorgonna and Krenna get in a fight with the player caught in the middle and in the quest The Conquest Pit: Final Showdown Krenna is killed. After her death, Gorgonna becomes the new leader of Conquest Hold.
Barracks serves as the local inn.
NPCs

Please add any available information to this section.

Goods and services
Quest givers
Additional characters
Other soldiers
Patch changes
External links