This is a list of known constellations in the Warcraft universe.
Azeroth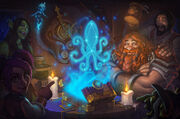 Turalyon's Hammer

[1]
There are nightborne designs for a spellblade mirroring a treasured constellation of their people.[3]
Draenor

This section concerns content related to the Warcraft novels, novellas, or short stories.
Three of Draenor's constellations match up to three artifacts from Azeroth: the Eye of Dalaran, the Jeweled Scepter of Sargeras, and the Book of Medivh. Every 547 years these three constellations undergo a celestial event, and when Ner'zhul combined the three corresponding artifacts with the magical energies released during the event, he was able to open up dimensional gateways to other worlds.[4]
The Seer
The Staff
The Tome
Seer Kazal

This section concerns content related to Warlords of Draenor.
"The stars shape our destinies, child, granting their blessings to the worthy and shunning the weak."
— Seer Kazal
The Shadowmoon orcs have a long history of spirituality and astrology. Seer Kazal <Shadowmoon Exile>, who gave related quests during Bonus Events prior to Legion, describes various stars with special meanings and effects.
Constellation statues
Within the halls of Ulduar a few constellations can be found, they are similar in appearance to Algalon:
Creatures
There are beings that resemble constellations and are often qualified as "celestial".
Items
Weapons
In World of Warcraft a few items appear to be some kind of solid constellation.
Other
In Hearthstone

This section contains information exclusive to Hearthstone and is considered non-canon.
The Kraken, a zodiac constellation[13]
The Mammoth, a zodiac constellation[14]
The Raven, a zodiac constellation[15]
In the RPG

This section contains information from the Warcraft RPG which is considered non-canon.
Azeroth
See also
References