Construction Projects consists of several projects that turn into finished services which can be spawned throughout Mechagon Island. In order to use the service, the project must be completed with the amount of scrap it requires. Multiple players may participate in the construction of a project. Once a project is complete, a player can use it for its intended purpose for the duration.
Projects
Drill Rig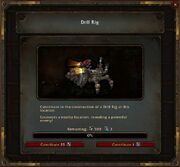 Drill Rigs open up secret locations blocked by boulders, revealing creatures within
Requirements
Reclamation Rig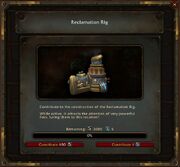 The Reclamation Rig attracts dangerous enemies, and players possessing the
 [Supercollider] may unlock a special ending with even stronger foes.
Requirements
Charging Station
The charging station converts empty energy cells into full ones.
Requirements
Rustbolt Armory
The armory provides free temporary upgrades, including the

 [Anti-Gravity Pack] to fly for up to 20 minutes throughout the zone.
Requirements
Flame Turret
Requirements
Criteria of
Patch changes
 

Expansion features

Construction Projects
War Campaign
Warfront