Not to be confused with Corky.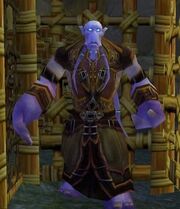 Corki is a Broken quest giver located in cages at Burning Blade Ruins, Northwind Cleft and Warmaul Hill in Nagrand. He is Arechron's son who has been captured by enemies and rescued by the Alliance adventurers several times. After he is saved from Cho'war the Pillager, his father sent him to live with the night elves in Blade's Edge.
After the Cataclysm of Azeroth, he appears as one of the people awaiting a VIP tour of the zoo on Darkmoon Island.
Quests
He is involved in the following quests:
Quotes
Darkmoon
He is the only guest not bothered by guide being late:
Notes
Patch changes
See also
References
^ World of Warcraft: Illidan, chapter 7
^  [100] 

They Have My Son
External links