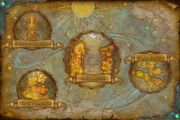 The Cosmic map is the farthest you can zoom out on your map. It shows Azeroth, Outland, Draenor and Shadowlands from Shadowlands.
Notes
There are other places in-game that aren't shown on the Cosmic map.
Azeroth depiction is different then it's own appearance in its own world map.

On the Azeroth side, the map is outdated. The Azuremyst Isles do not appear and Quel'Thalas looks as it did on the old world map. Pandaria is missing since it is located below the word "Azeroth". Broken Isles, Zandalar and Kul Tiras aren't shown as they are now seen on the Azeroth world map, with Broken Isles and Zandalar perhaps being represented by differently shaped islands.
The original Cosmic map was released for The Burning Crusade, but on the Azeroth side, you can see Northrend, which was introduced as a continent in the following expansion pack, Wrath of the Lich King.

The two figures in the background of the Warlords of Draenor version appear to be Aman'Thul and Sargeras.
Gallery
Patch changes