For the tauren organization, see Elder Council.
The Council of Elders is the third boss encounter in the Throne of Thunder. As its name suggests, this is a council fight consisting of representatives from each major troll tribe; Frost King Malakk (Drakkari representative), Kazra'jin (Amani representative), Sul the Sandcrawler (Farraki representative), and High Priestess Mar'li (Gurubashi representative). They are empowered by Gara'jal the Spiritbinder (Zandalari representative).
Background
Adventure Guide
The history of the troll tribes -- the Drakkari, the Farraki, the Amani, and the Gurubashi -- is awash with millennia of betrayal and conflict, but the Zandalari's promise of a new, unstoppable empire has finally united these disparate troll leaders.
Encounter Design
Gara'jal the Spiritbinder's defeat in the Mogu'shan Vaults was, yes, merely a setback. It takes more than a few blades and spells to put a voodoo priest down for good, though he no longer possesses a corporeal form. So this time around you aren't fighting him directly, but rather dealing with him as he possesses and empowers leaders of four other troll tribes, strengthening their attacks until you can force him out of the body he has chosen to occupy.[1]
Spells and abilities
  The Spirit of Gara'jal —  The spirit of Gara'jal the Spiritbinder possess a random councilor, empowering their abilities and causing them to generate Dark Energy. The spirit remains in a councilor until they suffer 25% of their maximum health in damage. Once the spirit is forced out, it rushes to inhabit a new councilor, resets Dark Energy to 0, and leaves behind the Lingering Presence effect.
  Lingering Presence —  When the Spirit of Gara'jal leaves a councilor, it leaves behind the Lingering Presence effect. This effect increases all damage done by 10% and increases the rate that Dark Energy is generated by 10% for the remainder of the fight. This effect stacks.
  Dark Power —  If a councilor reaches 100 Dark Energy they will begin to cast Dark Power every second. Dark Power inflicts 10,000 Shadow damage to all players and increases in damage by 10% with each cast.
  Soul Fragment  — Every other time the Spirit of Gara'jal is forced out of a councilor, he leaves behind a Soul Fragment. Soul Fragments possess a random player, inflicting 35,000 Shadow damage every 3 sec until the Soul Fragment is passed to another player. In addition, each time the Soul Fragment deals damage, it applies Shadowed Soul to that player. In 25-Player Heroic Difficulty, a Soul Fragment is created every time that the Spirit of Gara'jal is forced out of a councilor.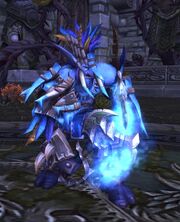 Frigid Assault  — Frost King Malakk imbues his weapons with ice, causing his melee attacks to inflict 75,000 Frost damage. In addition, each melee attack applies the Frigid Assault effect. The Frigid Assault effect will stun the target for 15 sec if it reaches 15 stacks.
  Biting Cold —  Frost King Malakk shrouds a player in ice, inflicting 85,000 Frost damage and afflicting them with Biting Cold. Biting Cold causes the player to inflict 85,000 Frost damage to all allies within 4 yards every 2 sec for 30 sec.
  Frostbite —  Frost King Malakk uses this ability while possessed by the spirit of Gara'jal. Frost King Malakk shrouds a player in ice, inflicting 100,000 Frost damage and afflicting them with 5 stacks of Frostbite. Frostbite causes the player to inflict 30,000 Frost damage per stack of Frostbite to all allies within 4 yards every 2 sec for 30 sec. Stacks of Frostbite are reduced by 1 for each player that stays within 4 yards of the player afflicted with Frostbite. The number of stacks of Frostbite cannot be reduced below one. In 10-Player modes, 2 stacks of Frostbite are removed for each player within 4 yards. On Raid Finder difficulty, 4 stacks of Frostbite are removed for each player within 4 yards.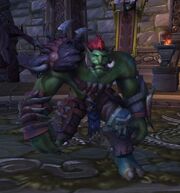 Reckless Charge —  Kazra'jin rushes towards a random player's location, inflicting 75,000 Nature damage to all players in a line to his target and knocking all players within 5 yards back when he lands.

  Overload —  Kazra'jin uses this ability after performing a Reckless Charge while possessed by the spirit of Gara'jal. Kazra'jin becomes electrified, stunning himself for 20 sec and reflecting 50% of all damage taken as Nature damage.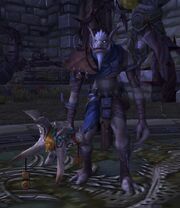 Strategy
Tanks, healers, and DPS all have important jobs to perform in this encounter. There are no phases, only mechanics that change according to which councilor is activated. The only thing that doesn't change is not standing in sand.
This is a two-tank fight. Kazra-jin cannot be tanked and can be ignored. Malakk has a stacking debuff and can be tank-swapped: however, this may not be desirable if Malakk has the lowest health (due to Marli's Blessed Spirits), and in these cases, the Malakk tank should pop major cooldowns and, with help from the healers, soak the debuff. The Priestess is a caster that can either be left to free-cast or interrupted occasionally as long as a tank maintains aggro. The most important aspect for tanks (besides the optional Malakk swap) is to keep the Priestess away from whatever mob has the least health to give DPS time to kill the summoned healing add. This tends to be Malakk in the beginning of the fight. While Sul is the activated councilor, a tank must also pick up the spawned sand elementals for AoE. When they die, they reform the damaging sand piles.
One melee should be left on Sul to interrupt. Maintaining a DPS on Sul will also force him to be the lowest health. The rest of the DPS should always be on the possessed councilor. It is important to take off 25% of the possessed mob's health before it reaches 100% energy. Possessed Kazra-jin reflects damage, so try to time any heavy hitting abilities for when he is not overloaded while not holding back DPS too much. The Priestess' adds are top priority when they spawn and can be stunned, slowed, and knocked back. Kill sand adds when they spawn.
When Kazra-jin is reflecting damage, healers will have to compensate since the DPS cannot hold back. Sandstorm will also deal raid-wide damage. Dispel all roots.
Also, when Malakk is possessed, the ranged and healers should stack on the person with Frostbite. Alternatively, the Frostbite target can run and stack on the tanks and melee.
Burning Sul first
Most groups find it easiest to kill Sul before he becomes empowered, as dealing with the sand elementals can be extremely problematic the first time, and is deadly if Sul becomes empowered a second time due to their sheer numbers
The exact way of doing this will vary between raid groups, but one way of doing this is:
Before the fight begins, assign one good melee with reliable interrupts to permanently stay on Sul. (25-man difficulties will, for obvious reasons, require extra players.)
On the pull, pop all DPS cooldowns and nuke Sul as much as possible. Frost King Malakk should empower, but he can be ignored initially.
Once Marli summons her first Living Spirit, DPS will deal with it, then will start working on Frost King (aside from the player(s) permanently assigned to Sul). There should be enough time remaining on the DPS cooldowns to break the empowerment before (or just as) Dark Power goes off. If DPS is strong enough to break the empowerment early, they should switch back to Sul just before the empowerment is broken, then back to Malakk when Dark Power starts and quickly break the empowerment.
Kazra'jin should empower next, and DPS will need to work on him except for the assigned Sul players. As of before, DPS can stop on Kazra'jin and do extra damage on Sul if they are ahead of the energy bar.
By the time the empowerment jumps from Kazra'jin to Marli, Sul should be on less than 20% health. Drag Sul over to Marli and let cleaves/multi-DoTs help the assigned Sul players finish him off. (Marli will not spawn any Blessed Spirits to heal Sul while empowered.)
It is of critical importance that Marli's Blessed Spirits be given top priority, as they will always head straight for Sul (as Sul will always have the lowest health). A single Blessed Spirit getting through can severely hurt the raid's chances of killing Sul before his first empowerment.
Heroic Mode

This section contains information that needs to be cleaned up. Reason: Spaces and typos.
The fight plays pretty much same as Normal mode,but every boss ability granted by Gara'jal empowerments is somewhat changed.
Mar'li: She no longer summons shadowed loa spirits, instead she cast Twisted Fate,which target the closest player(a tank or melee dps) and the farthest player away(a ranged or healer) and create a shadow copy of themselves. Both copies will try to get closer,which deals more damage to the raid the closer they are.When one of them dies,it pulses for moderate raid damage until killed.1 ranged dps should get away from raid so he is targeted and his copy is as far away from raid as possible.The melees should dps,slow and stun the closest copy while the ranged dps must do the same to the farthest one and make sure both copies are killed at the same time.
Malak: Frostbite Plays the same way as it does on normal mode.However,when a player reduces another player frostbite stacks,he is debuffed with body heat,which,as soon as it expires it not only causes the player to no longer contribute to the stack reduction,but they also take the full unmitigated damage if they are close to the frostbitted player.To deal with this the first 8 secs the debuffed player should stack with ranged or melee/tank players to reduce the damage,and then move from raid and use personal cds to survive alone the full unmitigated frostbite damage while he/she is healed.
Sul: If Sul is ever allowed to be empowered(which is not advised) the sand pool summoned when his adds dies will grow if they overlap,and when sul sandstorm again,this bigger pools summons bigger,and deadly adds.
Kaz'Rajin: Instead of overloading,he will discharge energy when possesed by gara'jal,which reflects 10% of his damage taken to the whole raid, instead of just 50% to the attackers.
Soul Shards: Every 3 empowerments the raid breaks(every empowerments on 25Man) Gara'jal debuffs a player with a soul shard,which gives them a debuff than deals 55k damage to the player and gives him shadowed soul,which increases damage taken 2% for the rest of the fight per stack, every time it deals damage.Players are also given a extra button,which allows them to target and pass the debuff to someone else.Players should pass the debuff around till everyone has 5 stacks then again until everyone has 10 stacks.Tanks should never get the debuff unless malak is dead, in such case where they can keep 1 shard everyone for the remainder of the fight.
The fight is somewhat similar to Normal,but the raids will prefer to make sure sul is absolutely dead before he is ever empowered.You should burn him with Heroism,like on the strategy above and kill the loa spirits to prevent him from getting healed(if the dps of the raid is huge,they can affort to ignore the loa spirit). Once this is done,your raid should proceed with the fight and deal with the abilities properly as listed above and focus next malak to get rid of the frostbites and allow tanks to hold the soul shards(but Kaz'Rajin is also a valid target,as his discharge abilitie can be pretty heavy to heal though). Its also important to note than raids might prefer to 3heal it due to the damage going around(unless they heavy overgear the fight,in such case 2healing is also possible).
Loot
Council of Elders
Item
Type
Description
 

[

Amun-Thoth, Sul's Spiritrending Talons

]

(

LFR

 ·

TF

 ·

H

 ·

H TF

)
Fist weapon
Spirit
 

[

Bad Juju

]

(

LFR

 ·

TF

 ·

H

 ·

H TF

)
Trinket
Agility
 

[

Fortitude of the Zandalari

]

(

LFR

 ·

TF

 ·

H

 ·

H TF

)
Trinket
Tank
 

[

Gaze of Gara'jal

]

(

LFR

 ·

TF

 ·

H

 ·

H TF

)
Mail helm
Agility
 

[

Kura-Kura, Kazra'jin's Skullcleaver

]

(

LFR

 ·

TF

 ·

H

 ·

H TF

)
One-hand axe
Agility
 

[

Loa-Ridden Bracers

]

(

LFR

 ·

TF

 ·

H

 ·

H TF

)
Mail bracers
Caster
 

[

Mar'li's Bloodstained Sandals

]

(

LFR

 ·

TF

 ·

H

 ·

H TF

)
Cloth boots
Spirit
 

[

Overloaded Bladebreaker Cuirass

]

(

LFR

 ·

TF

 ·

H

 ·

H TF

)
Plate chest
Tank
 

[

Robes of Treacherous Ground

]

(

LFR

 ·

TF

 ·

H

 ·

H TF

)
Leather chest
Spirit
 

[

Talisman of Angry Spirits

]

(

LFR

 ·

TF

 ·

H

 ·

H TF

)
Necklace
Strength DPS
 

[

Wushoolay's Final Choice

]

(

LFR

 ·

TF

 ·

H

 ·

H TF

)
Trinket
Caster DPS
 

[

Zandalari Robes of the Final Rite

]

(

LFR

 ·

TF

 ·

H

 ·

H TF

)
Cloth chest
Caster DPS
 

[

Zerat, Malakk's Soulburning Greatsword

]

(

LFR

 ·

TF

 ·

H

 ·

H TF

)
Two-hand sword
Strength DPS
 

[

Gauntlets of the Crackling Conqueror

]

(

LFR

 ·

H

)
Armor token
Paladin, Priest, Warlock
 

[

Gauntlets of the Crackling Protector

]

(

LFR

 ·

H

)
Armor token
Hunter, Monk, Shaman, Warrior
 

[

Gauntlets of the Crackling Vanquisher

]

(

LFR

 ·

H

)
Armor token
Death Knight, Druid, Mage, Rogue
Related Achievements
Quotes
Aggro

Gara'jal the Spiritbinder yells: Witness the powa of the Spiritbinder!
High Priestess Mar'li
Aggro

Death ta all who appose da empire!
Possessed

Da spiritbinder reveals yer soul ta me!
Shadowed Loa Spirit
Yer soul belongs ta me!

Succumb ta her venom!

Embrace yer demise!

Shadra's rage will destroy you!
Killed a Player
She will feast on yer soul!

Another offering to da loa!
Death

Shadra... save... me...
Kazra'jin
Reckless Charge
Killed a Player
Ya shouldn't be messin' wit da Zandalari!

Da Amani empire cannot be stopped!

On ya knees!
Death

Da thunder king... promised...
Unused quotes
Dis is gonna hurt!
Lei Shen, give us strength!
Da Thunder King shows us de way!
Shocking!
Frost King Malakk
Aggro

Ya have met your match, fools!
Possessed

Winter is coming...
Frostbite
Killing a player
Death's cold embrace.

Witness da Drakkari's might.
Death

Da... empire... can't... fall...
Unused quote

Da' Drakkari will never fall to de' likes of you!
Sul the Sandcrawler
Aggro

Da sands will consume everyting!
Possessed

I will bury ya all!
Sandstorm

Da storm approaches!
Quicksand

Watch yer step!
Killing a player
Da sands are endless.

Da first of many!
Death

I return... to... da... sands...
Unused quotes
Dey tink dey can stop da Farraki?
Lei Shen gives life!
Unused quotes
Gara'jal the Spiritbinder: Time to die!
Lei Shen: Bah! These insects do not know their place, Gara'jal! If you wish to prove your might on such weaklings, it matters not to me.
Trivia
Videos
10-man Normal
10-man Normal
10-man Heroic
Guides
PTR
Patch changes
References
External links
| Frost King Malakk | Kazra'jin | Sul the Sandcrawler | High Priestess Mar'li |
| --- | --- | --- | --- |
| | | | |
Guides

Icy Veins
 Council of Elders strategy guide