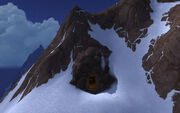 Courageous Yon is a grand master Pet Tamer located in a cave near the top of Kota Peak in the area of Kun-Lai Summit of Pandaria. He is not accessible via regular ground mount. He is surrounded by his three level 25 battle pets: Piqua (flying), Lapin (critter), and Bleat (beast). He appears to be a member of the Shado-Pan.
Defeating him is required to complete the

 [Taming Pandaria] achievement.
Yon is a pal of Shin Whispercloud who once brought Li Li Stormstout and her pet, Shisai to his house. Yon tamed him, taught Li Li how to battle against other pets and before leaving, he gave her some pet supplies.[1]
Pets
Quotes
On entering cave:
I see you, too, have braved the perils of Kota Peak. You have proven yourself worthy to do battle with me.
I have spent countless hours preparing for this battle.
Notes
An alternative method for reaching him requiring no flying skill and level 87: during
 [20-35] The Burlap Grind /
 [20-35 Daily] The Burlap Grind, while controlling Kota Kon it is possible to ascend Kota Peak and get to the cave using her Leap Smash ability.
Quests
 [1-60] Grand Master Yon

Patch changes
References
External links