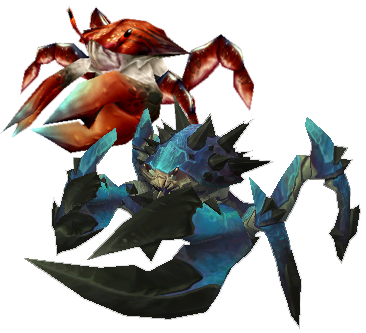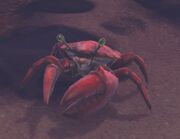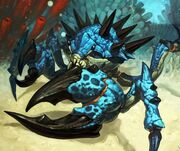 A crab (or a crawler)[1] is a (typically) small crustacean that is often found on beaches. Crabs have high armor, as the shell would imply. Crabs are typically neutral and ignore passers-by. They drop claws and meat that are used in cooking recipes (e.g.,

 [Crawler Meat] for making Crab Cakes). They are usually found along the coastline, but can survive for extended periods of time away from the ocean.[2] Sometimes, they may appear as critters. One can even find tiny red lava crabs scuttling about in the Searing Gorge and Burning Steppes. Though few crabs were added during The Burning Crusade, they received more attention during Wrath of the Lich King, and Cataclysm, the latter of which introduced a second model of crab, often referred to as "sand crabs", after the name of the model used.
Some species have developed an advanced form of camouflage that causes their skin to appear translucent.[3]
Spineclaw crabs of Pandaria have existed for thousands of years and remain one of the continent's oldest creatures.[4]
Types
Known species
Extinct species
Named
As a critter
Warcraft III

This section concerns content related to Warcraft III: Reign of Chaos or its expansion The Frozen Throne.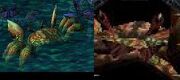 Warcraft III featured several crabs
As a mount
As a companion pet
Wild battle pets
The following crab pets can be captured in pet battles around the world:
As a hunter pet
Patch changes
Patch 6.0.2 (2014-10-14):

[

Pin

]

replaced with

[

Harden Shell

]

.

Patch 3.1.0 (2009-04-14): Bonuses equalized.

Damage had no bonus and now has +5% bonus.
Health had a 10% bonus and now has a +5% bonus.


Patch 3.0.2 (2008-10-14): Major changes.

Gained a new ability,

[

Pin

]

.
Armor had a +13% bonus and now has a +5% bonus.
Health had a -4% penalty and now has +10% bonus.
Damage had a -5% penalty and now has no penalty.

Gallery
Patch changes
References
External links

Petopia
Creature group
Beast creatures

 

Arthropod

Arachnid
Crustacean
Insect

 

Mammal

Carnivoran
Ungulate

Bovids
Camelids
Cetaceans
Proboscids
Swine
Creature group
Critter creatures

Amphibian
Arachnid
Bird
Crustacean
Fish
Insect
Mammal
Reptile
Other
 

Basic
Special

Acid Bite

Chi-Ji's Tranquility

Defense Matrix

Dragon's Guile

Feather Flurry

Fleethoof

Furious Bite

Grievous Bite

Infected Bite

Nether Energy

Niuzao's Fortitude

Obsidian Skin

Scale Shield

Spirit Pulse

Toxic Sting

Winged Agility

Exotic

Calcified Carapace

Dune Strider

Shimmering Scale

Bonus
Specialization