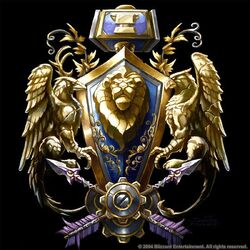 The Crest of the Alliance is a faction icon that includes a number of symbolic elements representing the various races of the Alliance:
In World of Warcraft: Warlords of Draenor, a new version of the Crest of the Alliance appears as a monument that can be used to decorate the player's garrison. While keeping the same overall appearance, it changes and adds iconography:
Trivia
Although called a crest, the full image of the icon of the Alliance is actually an achievement. The crest, using proper heraldic terms, refers not to the entirety of the heraldic image, but rather to its top element which is placed above the shield: in case of the Alliance's icon, it is the hammer representing the dwarves. Another commonly used term is the coat of arms, which is the term most frequently used for national symbols, although the strictest meaning of the word refers only to the achievement's shield.
Gallery
See also