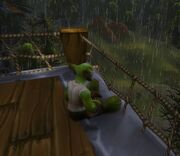 Crewman Cutpipe is a member of The Purple Princess, the zeppelin that runs between Brill and Grom'gol Base Camp. When the zeppelin is docked, he'll walk to the Vend-O-Tron, hammer it a bit, then order himself some bread and take a break at the back of the zeppelin.
Quotes
Gossip
I don't have time to talk right now.
You need something fixed? Use the Vend-O-Tron.
Patch changes
External links