The Crimson Treader

Leader(s)
 Lor'themar Theron
Race(s)
 Blood elf
Affiliation(s)
Sunreaver Onslaught
Location
Western Isle of Thunder
Characteristics
Facilities

Stables

Anvil & Forge

Bank        Auctions
Travel
Flight Master(s)
Mass-transit
Portal(s)
The Crimson Treader [28, 53]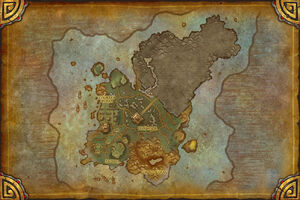 is one of three blood elven destroyers used by the Sunreaver Onslaught to lay claim to the Isle of Thunder. She is anchored west of the Court of Bones in the Greymist Firth south of Salabria and east of The Starchaser and is the Sunreaver Onslaught base of operations until it wins Zeb'tula on the isle's western side.
Adventurers of the Horde wishing to help the Sunreaver Onslaught claim the isle can teleport here from the Horde camp at [50.6, 73.4]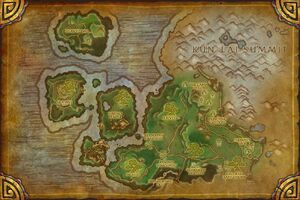 southeast of the Shado-Pan Garrison in Townlong Steppes. While on the isle, the Teleport to the Crimson Treader object is found at [1, 1]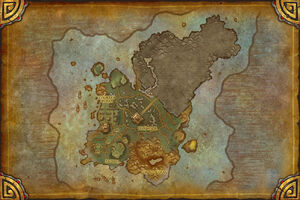 in the Court of Bones.
The ship leaves after
 [35] The Assault on Zeb'tula takes place, making Dawnseeker Promontory the Horde hub.
Inhabitants
Notes
Patch changes
External links