The subject of this article was removed from World of Warcraft in patch 5.0.4 but is present in World of Warcraft: Classic.

The subject of this article does not exist on the retail realms anymore.
The categories should reflect this, and should not include retail realm categories.

Crippling Poison is a rogue poison, available for 70

. Every time the rogue hits with the poisoned weapon, there is a 70% chance of the victim being slowed for 12 seconds.
Source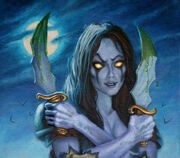 Crippling Poison is sold by poison vendors.
Improvements
Major Glyph
Use: Permanently teaches you this glyph.

Increases the chance to apply Crippling Poison to your target by an additional 20%.
Classes: Rogue
Requires Level 25
Notes
Has a PvP duration of 8 seconds.
Useful in PvP and instances to slow runners. Using this in your offhand and

[

Shiv

]

makes this very reliable.
Only affects movement speed, does not affect attack speed.
Crippling Poison, Shiv, and

[

Deadly Throw

]

combined allow a form of kiting.
Patch changes
External links