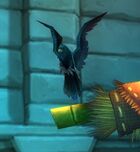 For the critter, see Crow (critter).
Not to be confused with Raven.
Crows are a species of black-feathered birds, found in several areas throughout Kalimdor. One breed of crow, called the storm crow, has a special bond with the night elven druids, who are able to take their form.
The Zandalari troll Prophet Khar'zul was able to summon a storm of crows.
Storm crows are a type of crows that Druids of the Talon transform into.
Known crows
Critters
Crow critters can be found on Darkmoon Island.
Cocky Crows can be found resting on the  

[

Pandaren Scarecrow

]

.
Gilnean Crows are found in Gilneas.
As a hunter's pet
Main article: Birds of prey
Patch changes
Creature group
Beast creatures

 

Arthropod

Arachnid
Crustacean
Insect

 

Mammal

Carnivoran
Ungulate

Bovids
Camelids
Cetaceans
Proboscids
Swine
Creature group
Critter creatures

Amphibian
Arachnid
Bird
Crustacean
Fish
Insect
Mammal
Reptile
Other