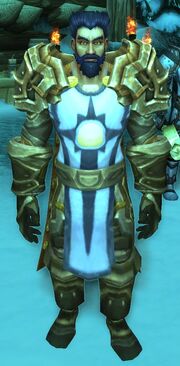 "Where both the Alliance and the Horde failed, the Argent Crusade succeeded."[1]
Crusade Commander Entari is a human paladin and commander of the Argent Crusade. He can be found in Icecrown, standing beside Highlord Tirion Fordring after Crusaders' Pinnacle is conquered, gazing down upon Scourgeholme.

This section concerns content related to Legion.
Following the death of Tirion Fordring, Entari joined the Silver Hand and is located in the Sanctum of Light. He is seen lying wounded.
He later traveled to Deliverance Point on the Broken Shore.
Quests
 [25-30] 

Honor Above All Else

 [25-30] 

Scourge Tactics
Patch changes
See also
References
External links