Crypt (Hyjal Summit)
For other crypts, see Crypt (disambiguation).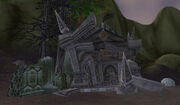 Two Crypts are located inside of the nameless Scourge base in the Hyjal Summit area during the Battle for Mount Hyjal. They are empty of anything significant. They may be a representation of the Crypts of the Scourge, or possibly the decorative crypt that Archimonde stood in front of during the first part of the Twilight of the Gods mission.