For other crypts, see Crypt (disambiguation).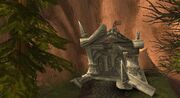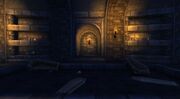 Behind Light's Hope Chapel is a rather large cemetery and within that cemetery lies a crypt. Lord Raymond George can be summoned here after completion of

 [15-30] Argent Call: The Trial of the Crypt.

This section concerns content related to Legion.
During the third invasion of the Burning Legion, the new Deathlord of the Knights of the Ebon Blade invaded the chapel once more. The Deathlord arrived here and raised ghouls and sent them at the Argent sentries while the three horsemen entered the chapel and the Sanctum of Light. They managed to raise the undead there because the Light is weak in the crypt.[1]
References
^   [45] 

The Fourth Horseman