This article contains creatures from concept art. It may not exist in the Warcraft universe.

This article is kept purely for historical purposes and should probably not be under any other categories.
For the giants in the game sometimes called crystal giants, see Colossus.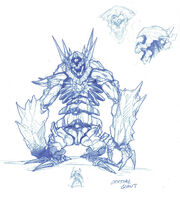 The Crystal giant are a giant race concepted for Wrath of the Lich King but that were not developed further.