This article's name is unofficial.

Please note that while the content is valid, this article's name is not official.
This is because no official name is available for the subject of this article. We use a descriptive name instead.
This article should not be moved unless

discussed

first - Remember to follow the naming policy.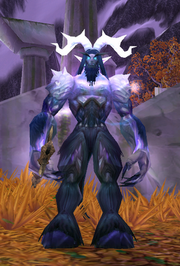 Crystal satyrs are a satyr race found in Crystalsong Forest, with no more information about them.
Types
Notes
They are classified as humanoids rather than demons like normal satyrs.
They are likely the remnants of the elves of the Ruins of Shandaral, as they inhabit their ruins almost exclusively and the elves of that area are responsible for Crystalsong's transformation.
Gallery
See also