"Help" redirects here. For the icon that displays information of on most UI, see Help icon.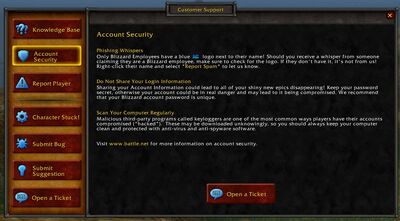 Customer Support is a window dedicated to helping World of Warcraft players with any issues they may be having within the game, from harassment to getting stuck, and even offering a way to make suggestions for the game.
This window can be accessed by hitting the Help button on the Game Menu (default keybind: ⎋ Esc).
Along the left side of the window players can access the many different options found here:
Knowledge Base
The Knowledge Base provides information on known issues, FAQs, and help on how to change interface options.
Account Security
This is used to Open a Ticket to a Game Master for issues involving security threats, such as if you've been hacked.
Report Player
This section gives you information on how to report a player and when you should or shouldn't use it. This option does not have an active button within it.
Character Stuck!
The character stuck window gives players two options to preform when they have become stuck: Use your

 [Hearthstone] or teleport to the graveyard.
Submit Bug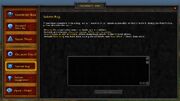 Allows players to inform Game Masters of a possible bug. Contains information on how one should submit an issue.
Submit Suggestion
A non-ticket box allowing players to make a suggestion for the World of Warcraft.
Open a Ticket
This section allows players the option to open a ticket, open a recent GM chat log, and allows access to the item restore option.
Getting Help
Valid Reasons for a Help Request
Here is a non-definitive, unofficial list of valid reasons for a help request:
A major bug, like a broken instance entrance or a hole in the world.
An exploit of some sort, like a PvP combat cheat, altering a game mechanic, or Gold Farmer macro.
A harassment event, like obvious racial or sexual harassment or threats of real world physical violence.
Other violations of the License Agreement.
How the ticket queue works
Hyphexte from Blizzard Europe, wrote in a ticket reply at 02.12.2010:
 Support is not limited per realm, all Game Masters work on a ticket queue from all English EU realms at once.

In essence this means that there is a global queue for tickets in each localization (English, German, e.g.) and that tickets are serviced one by one (assuming it's a LIFO queue).
 

Expansion features