Damaged Scythe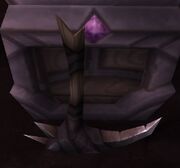 The Damaged Scythe is a scythe found in Archivist Ionaa's cave in Krokul Hovel in Krokuun.
Crafted by an ancient Krokul smith, the scythe's markings reveal a strenuous history of battle between the Burning Legion and the Krokul.
Its foggy, shale-colored blade is chipped, speckled with a darkened, dried liquid around the blade's edge.
The taut handle crafted from talbuk hide is well-worn, with a slight imprint of where its owner's grip once wielded this magnificent tool-turned-weapon into battle.
Patch changes
External links