Dancing Rune Weapon

Dancing Rune Weapon
Level 57 Blood death knight ability
30 yd range
3 min cooldown
Requires Melee Weapon
Summons a rune weapon for 8 sec that mirrors your melee attacks and bolsters your defenses.

While active, you gain 40% parry chance.

Usable by
Class
Death knight
Properties
School
Physical
Cooldown
3 minutes
Other information
Level learned
57
Related buff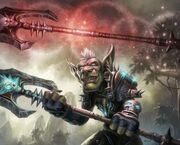 Dancing Rune Weapon is a level 57 Blood death knight ability that allows the death knight to summon a rune weapon to fight with them.
Patch changes
See also
Dancing Rune Weapon (Worldbreaker)

, TCG card
External links