Dark Iron Ale Mug
Use: Throw near a patron of the Grim Guzzler.
1 Charge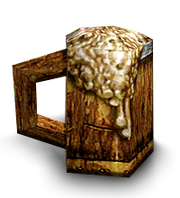 Dark Iron Ale Mugs can be purchased for 6

from Plugger Spazzring in Blackrock Depths.
As a quest objective
Notes
Dark Iron Ale Mugs can be purchased from Plugger Spazzring, the bartender in Blackrock Depths.
They can also be picked up from the table near Plugger Spazzring, but this will cause the whole bar to aggro.
Each costs 6 silver, and Plugger has a limited supply of 10.
These can be given to Private Rocknot to start an event that will cause Phalanx to become hostile and bash open the Bar door.
If you throw a mug on the ground near a bar patron, the patron will go drink the ale and become stunned for a short period of time.
Disgusting Oozelings also like to drink dark iron ale.
Jublings also like to drink dark iron ale.
Some mugs are also used in a Darkmoon Faire quest to get a jubling pet.
External links