For the item, see  

[

Dark Mirror

]

.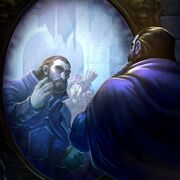 Dark Mirror is a short story by Steve Danuser featured on the official site.
Characters
Locations
Notes
Inconsistencies
While Tales of the Hunt states that Sylvanas became ranger-general following Lireesa Windrunner's death in the Second War, Dark Mirror clearly shows that Sylvanas was already an established ranger-general before the Old Horde had reached Quel'Thalas in the war.

It could be speculated that Lireesa was actually killed during the interim between the First War and Second War.
Gallery
Fan art
References
External links
Type
Binding
& format
Short story books

---

The following texts were not published as short stories but rather published on the official Blizzard websites as blog posts split into several parts. However, they are included here for completeness' sake.