Dark Ranger Anya is a dark ranger who wanders the Undercity. She is one of the "Seeker" guards, which means she can see through
[Stealth] effects.
Biography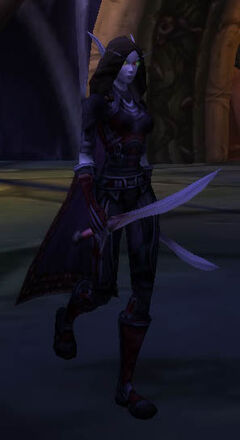 Dark Mirror
Sylvanas Windrunner asked Anya to witness the ritual to make Nathanos Blightcaller stronger, though Nathanos believed that Anya was present to put him down in case the spell went awry. Once the ritual was finished, the dark ranger escorted Nathanos to the armory to see that he was outfitted in a manner that fit his station. Anya implied to Nathanos that Sylvanas had feelings for him, a notion that the Blightcaller disagreed with.[1]
Legion
Anya later attended Vol'jin's funeral in front of Orgrimmar's gate, and defended the Banshee Queen against the Burning Legion when they were unmasked by the Illidari.
Windrunner: Three Sisters
Anya and several other dark rangers were waiting out of sight to attack Alleria and Vereesa during their reunion with Sylvanas at Windrunner Spire, but Sylvanas never gave the signal. After Alleria and Vereesa left, Sylvanas told Anya that she would let her sisters cling to their lives a bit longer but in the end they would serve her.[2]
Battle for Azeroth
She attended a meeting between Dark Ranger Lyana, Sylvanas Windrunner, and a Horde champion as they discussed a mission to track down Varok Saurfang.[3]
Locations
Abilities
Black Arrow — Inflicts Shadow damage every 3 sec for 30 sec. If the target dies while afflicted, a skeleton will be summoned from their corpse. 
Hooked Net — Inflicts Physical damage and immobilizes the target for 3 sec. 
Shoot — Shoots at an enemy, inflicting physical damage. 
Quotes
Dark Mirror

This section concerns content related to the Warcraft novels, novellas, or short stories.
"Sylvanas defied a kingdom to name you ranger lord. She scoured the Plaguelands to reclaim you from the Scourge. And today she drew upon her most precious resource to restore your strength. Think upon these things, Blightcaller, and tell me how someone so cunning can be blind to the simplest of truths."[1]
Legion

This section concerns content related to Legion.
Anya, along with Nathanos Blightcaller, Dark Ranger Lyana, Dark Ranger Alina and Dark Ranger Velonara, provide security during Vol'jin's funeral outside Orgrimmar. Any curious adventurer can strike up a brief conversation with her, however.
Leave me alone. I'm working. There may be hostiles in the crowd.
 Do you know why Nathanos looks... different?

Do I look like I want to die? Again, I mean?
If you're curious about the Blightcaller's visage, you can ask him yourself. Or the Dark Lady, for that matter. They're ever so fond of small talk.
<The dark ranger smirks as she resumes her watch.
Trivia
Gallery
Patch changes
References
External links