Dark Ranger Clea is an elite dark ranger who wanders the Undercity. She is a "seeker" guard, which means that she can see through

[Stealth] effects.
Some time after establishing the Undercity, she informed Sylvanas Windrunner that they had found Nathanos Marris near his homestead, raised as a Scourge. Clea wanted to suggest if they should take care of him, but Sylvanas instead ordered her to find Anya and meet her at the stead.[1]
During the Fourth War she attacked Proudmoore Academy in Boralus, luring Rear Admiral Hainsworth into the open for her Horde allies to kill,[2] but was herself fought by the Alliance.[3] Despite seemingly being killed there, she later attended a meeting between Dark Ranger Lyana, Sylvanas, and a Horde champion as they discussed a mission to track down Varok Saurfang.[4]
Locations
Abilities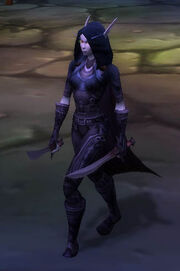 Boralus
Objective of
Trivia
She shares her name with Clea Deathstrider, a random Dark Ranger hero from The Frozen Throne.
Patch changes
References
External links