Dark Ranger Clea is a Darkfallen dark ranger who wanders the Undercity. She is a "seeker" guard, which means that she can see through

[Stealth] effects.
Some time after establishing the Undercity, she informed Sylvanas Windrunner that they had found Nathanos Marris near his homestead, raised as a Scourge. Clea wanted to suggest if they should take care of him, but Sylvanas instead ordered her to find Anya and meet her at the stead. There, they fought against darkhounds, and eventually witnessed Sylvanas liberating Nathanos from the Scourge.[1]
During the Fourth War she attacked Proudmoore Academy in Boralus, luring Rear Admiral Hainsworth into the open for her Horde allies to kill,[2] but was herself fought by the Alliance.[3] Having survived her defeat, she later attended a meeting between Dark Ranger Lyana, Sylvanas, and a Horde champion as they discussed a mission to track down Varok Saurfang.[4]
After the Forsaken reclaimed the Ruins of Lordaeron, Clea started patrolling the southern part of the city.
Locations
Abilities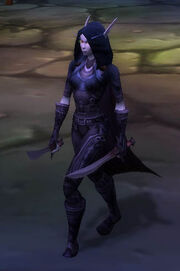 Boralus
Objective of
Trivia
She shares her name with Clea Deathstrider, a random Dark Ranger hero from The Frozen Throne.
Patch changes
References
External links