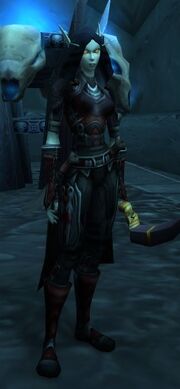 Dark Ranger Kalira is a dark ranger under the service of Sylvanas Windrunner. She accompanies the Banshee Queen alongside fellow Dark Ranger Loralen through the Forge of Souls and Pit of Saron. After the loss of their slave allies to Sindragosa Sylvanas sends Kalira for reinforcements before venturing into the Halls of Reflection. The reinforcements she sends wind up being the crew of the Orgrim's Hammer who arrive just in time to save Sylvanas from the clutches of the Lich King.
She was present at the funeral ceremony of Vol'jin in the Dranosh'ar Blockade.
She attended a meeting between Dark Ranger Lyana, Sylvanas Windrunner, and a Horde champion as they discussed a mission to track down Varok Saurfang.[1]
Locations
Abilities
Black Arrow
Multi-Shot
Shoot
Patch changes
References
^  [50] 

The High Overlord
External links