Dark Summoner (Eastern Plaguelands)
For the Brawler's Guild boss, see Dark Summoner.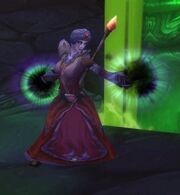 Dark Summoners can be found in the Eastern Plaguelands.
Abilities
Arcane Bolt - Hurls a magical bolt at an enemy, inflicting Arcane damage.
Summon Zombie - Calls forth 1 Summoned Zombie to aid the caster in battle for 30 sec.
Drops
The subject of this section has been removed from World of Warcraft.
Objective of
Patch changes
Patch 4.0.3a (2010-11-23): Model updated. Level reduced from 55-56 to 41-42.

Patch 1.5.0 (2005-06-07): The Dark Summoners of the Eastern Plaguelands have finally fully materialized and are no longer ghostly in appearance.

External links