For the pre-Mists of Pandaria encounter, see Darkmaster Gandling (Classic).
Darkmaster Gandling served as the headmaster of necromancy at the Scholomance and, along with his teacher Ras Frostwhisper, oversaw the atrocities committed against many innocent souls.[2]
One of the few classic bosses of the Scholomance to survive until after World of Warcraft: Cataclysm, Gandling took up sole rulership of the Scholomance and the remaining Scourge of the Western Plaguelands.[3][4]
Gandling appears briefly in Andorhal, where he is defeated by the combined might of Koltira Deathweaver and Thassarian before he flees back to Scholomance.[5]
After losing control of Andorhal as well as losing most of his servants during the Western Plaguelands storyline, he is confronted by adventurers allied with Lilian Voss and Alexei Barov. Lord Alexei Barov believed his defeat would allow his spirit to finally rest in peace.[6]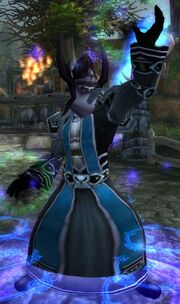 Following the Fourth War, Mathias Shaw stated that according to Argent Crusade reports, Darkmaster Gandling is still active at the head of Scholomance, with Jandice Barov and Rattlegore, and has many puppets to play with.[1]
Whether this means he was resurrected as an undead or simply was not killed as previously believed is unknown. The continued presence of Jandice Barov appears to mean that the curse upon the Barovs continues.
Adventure Guide
Course: Advanced Studies
The recent defeat in Andorhal has put Darkmaster Gandling in the foulest of moods. More than ever, all students of Scholomance are advised to impress him at every turn. Pupils who dissatisfy the headmaster will be removed from class to perform lab work... or become lab work.
Spells and abilities
Western Plaguelands
Scholomance
The Darkmaster attacks players with Incinerate and Immolate and periodically assigns one a Harsh Lesson, sending the player to a side room to fight Expired Test Students. When a tank or healer is sent, Gandling channels Rise!
Study Rooms
Strategy
Gandling does not need to be tanked normally, as he will only use Incinerate and Immolate from his spot in the middle of the room. He will occasionally teleport a random player in to one of the side rooms. Said player must fight his or her way out back to the study on their own.
There are several possible ways to deal with the Expired Test Subjects when trapped:
If a tank or a healer gets teleported, a large number of weakly-hitting skeletons will swarm the room. Focus on them instead of Gandling, as he takes much less damage while Rise is being channeled.
Loot
Related achievements
Objective of
Quotes
Western Plaguelands
Main article: Scholomancer#Notes
Scholomance
Intro

Talking Skull says: Finally.
Darkmaster Gandling yells: If you haven't come to study, I'll use you to teach a lesson.
Talking Skull yells: PREPARE TO DIE, VILLAIN!
Aggro

School is in session!
Killing a player

Dunce.
Death

Darkmaster Gandling yells: Class...dismissed.
Spirit of Lord Alexei Barov says: It's over. The curse is lifted. Thank you, <name>. Thank you!
In the RPG
Darkmaster Gandling is a mummified wretch. He teaches students how to raise the dead in the Lich King's name. Formerly a Dalaran wizard, he betrayed his masters for dark power and now revels in undeath. His graduates go on to Stratholme, the Scourge's capital in the Eastern Plaguelands.[7]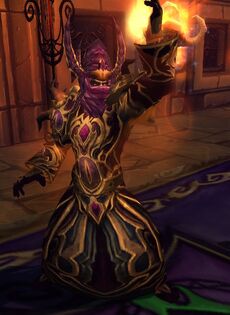 In Hearthstone
Darkmaster Gandling appears as a legendary Priest/Warlock card in the Scholomance Academy expansion for Hearthstone. His flavor text reads: "He doesn't grade on a curve, but on a sharp spike instead."
Notes and trivia
Patch changes
See also
References
External links
Dungeon final bosses

Bosses in grey were redesigned in a later expansion or removed from the game.