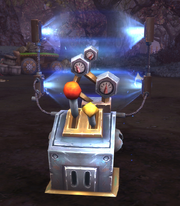 Template:WorldEvent/DarkmoonFaire
The Darkmoon Arcade Console is located next to Lynnish Hardmode in the Mechafun Arcade in the Darkmoon Faire on the Darkmoon Island.
Quotes
Gossip
The arcade console sounds as if it's full of gears, springs, uncontrolled electricity, and a healthy dose of hopes and dreams.
It whirs, grinds, gurgles, beeps, boops, and sproings as you press the Start button.
What game do you want to play?

 Unlock arcade console for the day. (
 [Darkmoon Game Token])
Unlocked
Patch changes
External links