Darkmoon Hatchling
Use: Teaches you how to summon this companion.

The subject of this article or section is part of Darkmoon Faire
, an
ongoing event
that lasts one week. Once the event has run its course, this will no longer be available until next month.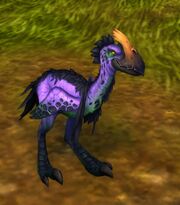 Darkmoon Hatchling is sold by

 Lhara at the Darkmoon Faire on Darkmoon Island for 90
.
Pet Journal
Most of Violet's numerous forest strider hatchlings are turned into Faire fare by Stamp Thunderhorn, though a few are raised as mounts or purchased by adventurers looking for a petite purple pet.
Battles
Patch changes
External links
Battle pet types
Critter battle pets

Archetype of Multiplicity

Archetype of Survival

Archetype of Multiplicity

Ashen Chomper

Bloodlouse Larva

Corpselouse Larva

Darkmoon Hatchling

Decaying Mawrat

Decay Grub

Deepwood Leaper

Emerald Scarabid

Feasting Larva

Fierce Scarabid

Frenzied Mawrat

Hissing Deathroach

Leaping Leporid

Metallic Scarabid

Plaguelouse Larva

Shelly

Timid Leporid

Tower Deathroach

Undying Deathroach