Darkmoon Top Hat
Use: Increase experience and reputation gains by 10% for 1 hour. Hat is consumed on use.
Requires Darkmoon Faire

The subject of this article or section is part of Darkmoon Faire
, an
ongoing event
that lasts one week. Once the event has run its course, this will no longer be available until next month.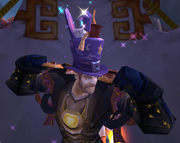 The Darkmoon Top Hat can be purchased from

 Gelvas Grimegate at the Darkmoon Faire on Darkmoon Island for 10
.
It also has a chance to be found in the
 [Darkmoon Game Prize] rewarded from the dailies.
Notes
This item allows players to receive the same buff provided by the Darkmoon Faire Merry-Go-Round, without the need to visit the actual faire each time.
The buff lasts 1 hour real time, not game time.
The hats vanish after the faire has ended.
Patch changes
External links