Darktalon is found at [49.6, 41.8]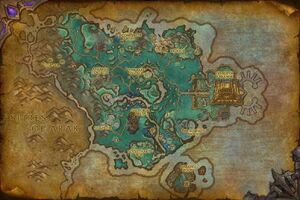 on the rise south of Teluuna Observatory in central Shadowmoon Valley.
Abilities
  Headbutt — The caster rears back, then smashes forward with their head. Any enemies in front of the caster suffer Physical damage and are knocked back. 
  Quills — Rapidly fire sharp quills at enemies, dealing Physical damage. 
  Screech — The caster Screeches, sending forth a wave of Sonic energies that inflict Physical damage to all enemies in its path. 
Drops
Tracking quest
To check whether Darktalon has been looted, copy and paste this command into the chat window:
/run print(C_QuestLog.IsQuestFlaggedCompleted(35555))
If a "true" appears in the chat window, Darktalon has been looted; "false" indicates the opposite.
Patch changes
External links