For the raptor in Dustwallow Marsh, see Dart.
Dart
Use: Teaches you how to summon this companion.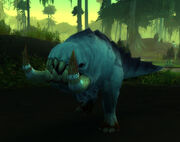 Source
Battles
Pet Journal
This young crawgling was rescued from a vicious blood troll war camp. With care, and lots of feeding, you earned his trust and Krag'wa asked you to take care of him always.
Trivia
He is a reference to D'Artagnan who was nicknamed "Dart" from Netflix's series, Stranger Things.
Patch changes
External links
Battle pet types
Beast battle pets

Archetype of Cunning

Archetype of Discovery

Archetype of Predation

Bloodfeaster Spiderling

Blushing Spiderling

Copperfur Kit

Corpulent Bonetusk

Dart

Goldenpaw Kit

Green Viperid

King Viperid

Momma Vombata

Red Viperid

Rosetipped Spiderling

Ruby Baubleworm

Rustfur Kit

Sable

Tarachnid Ambusher

Tarachnid Stalker

Topaz Baubleworm

Tunneling Vombata

Turquoise Baubleworm

Verdant Kit

Viperid Menace

Vombata Pup