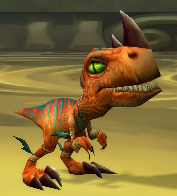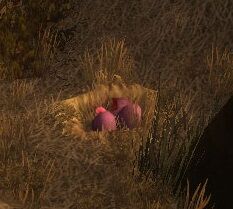 Source
This item is found within the Dart's Nest an infrequently spawned object in Dustwallow Marsh. The spawn location appears to be close to where Dart, a rare mob raptor appears. However reports are that they are not on the same timer.
It can also appear on the Black Market Auction House.
Pet Journal
Rarely leaves nest until maturity. Enjoys conducting pranks on the nearby Razormaw nest.
Battles
Trivia
Occasionally it will "dart" off into the distance at a high speed and run around in a circle before returning.
Patch changes
External links
Battle pet types
Beast battle pets

Archetype of Cunning

Archetype of Discovery

Archetype of Predation

Bloodfeaster Spiderling

Blushing Spiderling

Copperfur Kit

Corpulent Bonetusk

Darting Hatchling

Goldenpaw Kit

Green Viperid

King Viperid

Momma Vombata

Red Viperid

Rosetipped Spiderling

Ruby Baubleworm

Rustfur Kit

Sable

Tarachnid Ambusher

Tarachnid Stalker

Topaz Baubleworm

Tunneling Vombata

Turquoise Baubleworm

Verdant Kit

Viperid Menace

Vombata Pup