Dawnseeker Promontory

Leader(s)
 Lor'themar Theron
Race(s)
 Blood elf
 Tauren
 Forsaken
 Mag'har orc
Affiliation(s)
Sunreaver Onslaught
Location
Northwestern Isle of Thunder[32, 31]
Characteristics
Facilities

Stables

Anvil & Forge

Bank        Auctions
Travel
Flight Master(s)
Mass-transit
Portal(s)
The Dawnseeker Promontory is the Sunreaver Onslaught toehold on a small island off the northwestern coast of the Isle of Thunder. After claiming Zeb'tula (and phasing in the Dawnseeker Promontory), adventurers of the Horde wishing to help the Sunreaver Onslaught claim the rest of the isle can teleport here from the Horde camp at [50.6, 73.4]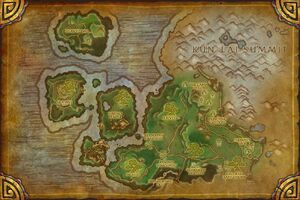 southeast of the Shado-Pan Garrison in Townlong Steppes. Surrounded by the Bay of Echoes, the Wildvine Marsh and Diremoor are to the east, and the Court of Bones is to the south. Following its establishment, completion of daily quests will contribute to the promontory's continued construction.
The promontory is presumably named for the Thalassian hero, Thalorien Dawnseeker.
Notable inhabitants
Quest givers

Always present
Court of Bones quest givers
Ihgaluk Crag quest givers
Za'Tual quest givers
Notes
According to lead quest designer Dave Kosak, the Sunwell-esque structure being built behind Lor'themar is an arcane focus.[1]
The Alliance equivalent is the Violet Rise, phased in from Shaol'mara, off the southeastern coast of the island.
The three main Horde quest givers (Halduron, Rommath, and Aethas) will rotate in and out of the promontory; for example, one day, Rommath and his entourage may appear at the promontory instead of the Court of Bones and will offer no quests, while another day, Halduron and his own will return to the base. On such days, different quests will be handed out to supplement the ones given by the returned leader.

If Alliance players venture near the promontory's base camp, only Lor'themar and Aethas are visible, while Halduron and Rommath (even if they've been rotated back to the base Horde-side) will not appear. Lor'themar will aggro if players get too close; Aethas is hostile, but unattackable. This is likely due to phasing mechanics.
Gallery
Patch changes
References
External links