For other uses, see Death From Above (disambiguation).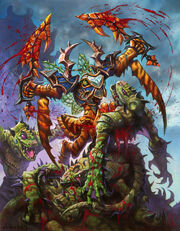 Death From Above is a short story by Robert Brooks that is featured on the official site.
Description
Every century, the mantid swarm the Serpent's Spine. Most die. Some live. Only a rare few become legends. During the height of the mogu empire, one mantid struck fear in the hearts of slaves and taskmasters alike: "Wind-Reaver."
Characters
| Major | Supporting | Minor | Mentioned |
| --- | --- | --- | --- |
| | | | |
Locations
External links

World of Warcraft Community Site
 Faction Stories: Death From Above
Type
Binding
& format
Short story books

---

The following texts were not published as short stories but rather published on the official Blizzard websites as blog posts split into several parts. However, they are included here for completeness' sake.