The death knight starting experience takes place in an instanced version of the Eastern Plaguelands (called the Scarlet Enclave), starting at level 8 in the Ebon Hold necropolis. Death knights are required to complete a fairly extensive quest chain before leaving the instance and joining the rest of the players on their realm. This instanced portion teaches them the skills of their class, upgrades their armor and weapons, and informs them of their place in the world while under the Lich King's power.
Quests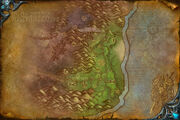 By the end of this quest chain, players will have gained access to the first three talent tiers, a nice set of rare equipment, and can quickly get started leveling in Outland or Northrend. However, profession-wise, death knights have zero profession skills, so they should catch up as soon as possible.

This section concerns content related to Battle for Azeroth.
Pandaren and allied races start in an instanced version of the Frozen Throne.
  [8-30] 

Death's Power Grows

  [8-30] 

Defender of Azeroth